Dear designers and purchasers
Functional corrugated fiberboard
Functional corrugated fiberboard
From corrugated fiberboard with water resistance, cold insulation characteristics or hardness for satisfying various needs in packaging, CF or GF corrugated fiberboard, our functional corrugated fiberboard can be used for various purposes.
Functional corrugated fiberboard lineup
Water-resistant corrugated fiberboard
Our water-resistant corrugated fiberboard is recyclable.
It protects products from which water may be exposed including fresh fish, agricultural produce, frozen food and processed food safely during shipment.
Select low water-resistant or high water-resistant type depending on applications.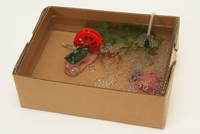 Cold insulation corrugated fiberboard (Fresh and cold)
Our cold insulation corrugated fiberboard is recyclable.
It helps products such as frozen food or fresh food (fruit and vegetables, fishery products) to be delivered fresh and in good condition.
Numerous air spaces in the liner allow high insulation property and the liner also has high water resistance.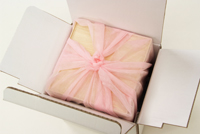 Strengthened corrugated fiberboard
Chemical processing intensifies strength of the paper.
The strengthened corrugated fiberboard is thin and light in weight and is used for transportation package mainly by heavy-equipment manufacturers.
It is also used for corrosion proof purpose in recent years.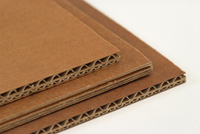 C-flute corrugated fiberboard
Thickness of a C-flute corrugated fiberboard is about 4 mm. While the strength of C-flute corrugated fiberboard is about 8% less than that of conventional A-flute corrugated fiberboard, amount of material can be reduced by about 2 to 3% and about 17% or more efficiency can be increased when stored in a case.
The C-flute one can be used for products for which A-flute one has too much strength while B-flute one may be too weak, such as packages for snacks, cups for food, cans or bottles whose contents are solid.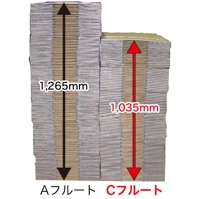 G-flute corrugated fiberboard
G-flute corrugated fiberboard is much thinner than conventional one and has thickness of 1 mm or less.
The surface of the G-flute corrugated fiberboard is very smooth with approximately 180 very stall stages per 30 cm, allowing offset printing directly on the surface as is on conventional coated cardboard. The stages make the fiberboard stronger than coated cardboard of the same weight and help reduce amount of paper used.