Dear designers and purchasers
Logistics material
Logistics material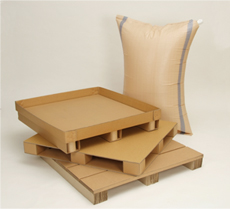 We offer materials for transporting products safely. In order to satisfy demands of increasing transportation efficiency and weight saving, we offer products for a variety of applications including pallets made of corrugated fiberboard that are lighter than wooden pallets and dunnage for container transportation.
Dunnage

Dunnage refers to various kinds of mats, padding for supporting loads or supporting wood or wedge for sufficiently protecting contact surface of consolidated shipment in the hold, preventing cargos from dislocation, decreasing shocks during navigation, and for preventing damage due to humidity in the hold.
Logistics material lineup
Corrugated fiberboard pallet
Our pallets are made of corrugated fiberboard and about one-quarter as heavy as wood pallets. They are so light that you may want to handle them with just one hand. Not only convenience of handling is improved, but they can also decrease distribution cost. Their structure is strong and allows for transport of heavy load. No fumigation or heat treatment is required.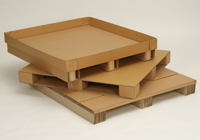 Air pack
Our air pack is a strong pack consisting of inner pack having gas-sealing characteristics and outer pack. Air packs are inserted in clearance between cargos and containers and air is put into the packs so that cargos are secured firmly with wide surface of the packs to prevent collapse of cargos. The position of air inlet is designed in consideration of easy operation to make air filling easy and quick so that workload is reduced.

Lashing material (Eco lash)
Our lashing material (locking tool to prevent dislocation of cargos in shipping containers) is made from waste paper pipe, instead of conventional wood.
The material has sufficient strength, helping to reduce use of limited wood resource.
Moreover, some countries require fumigation for cargos with wood lashing and use of our lashing material renders fumigation unnecessary and the cost is reduced.

Lashing

Lashing refers to securing cargos in containers with wires or ropes. The term also means securing containers or cargos to a ship with wires or ropes to prevent collapse of cargos during voyage.